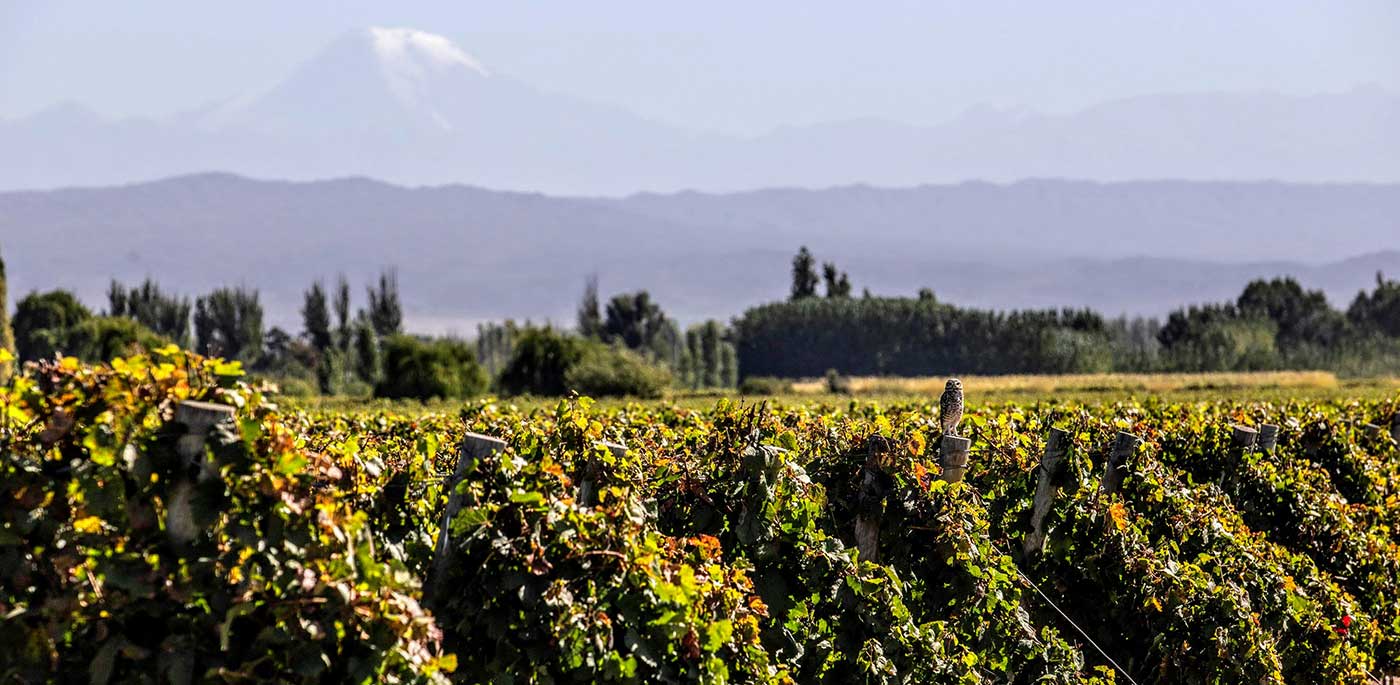 Buy Argentine wines online
With almost 200,000 hectares planted with vines for wine production and with vineyards over 3,300 metres above sea level, Argentina is the fifth largest wine producer in the world. Its viticultural history dates back to the early 16th century, when settlers brought the first vines from Europe.
Today, Argentina produces red and white wines in very different regions: Northwest (Salta, Tucumán, Jujuy and Catamarca), Cuyo (Mendoza, La Rioja and San Juan), Patagonia (Río Negro, Neuquen, Chubut) and the Atlantic region (in Buenos Aires and La Pampa).
It stands out for having high altitude wines, a great diversity of terroirs, and for growing varieties that make it famous worldwide, such as Malbec and Torrontés, but also excellent wines such as Bonarda, Cabernet Sauvignon, Sauvignon Blanc, Tannat, Cabernet Franc, Chardonnay, Pinot Noir and Cuvées.
Read more
A brief look at Argentinian Wine Production:
Located in the southern part of the American continent, with a population of 44 million and an area almost eight times larger than Germany, Argentina is one of the world's natural reserves. Privileged by the extraordinary diversity of its landscapes, Argentina offers high mountains and plains, lush vegetation and extreme deserts, forests and steppes, glaciers and waterfalls.
Why Argentine wines?
- Argentine wine production combines traditional forms with technology and current trends. This allows wine producers to permanently renew their offer, both within the domestic and foreign markets.
- Thanks to the diversity of the soil and the vastness of the country, there is constant experimentation with new regions, leading to the creation of new geographical indications (GIs).
Argentinean wine regions:
Northwest (Jujuy, Salta, Tucumán and Catamarca)
(6,000 hectares of cultivated land)
The Northern region is characterised by the altitude of the vineyards, situated between 1,000 and 3,300 metres above sea level. Here are the highest vineyards in the world. Other peculiarities of the region are the low rainfall and the dry, warm climate, with very high average temperatures and sandy soils that favour good drainage.
These regions have thousands of years of history, as they were once home to the Calchaquies and Diaguitas, who were among the first peoples to inhabit the American continent.
This area is also known for excellent blends. The most commonly grown white grapes in the Northwest are Torrontés Riojano, Sauvignon Blanc, Chardonnay, Chenin and Riesling.
Cuyo (La Rioja, San Juan and Mendoza)
(188,050 hectares of cultivated land)
The region of Cuyo (Land of the Deserts) is one of the driest and yet most productive regions for viticulture. This is the largest wine producing region in Argentina and the most important in South America. With altitudes ranging from 430 to 2,000 metres, this region is characterised by its mountainous relief. The Andes are the main source of irrigation, providing its meltwater every summer.
Wine from Mendoza: (*)
In the mid-west of the territory, at the foot of the Andes, Mendoza is home to 75% of Argentina's total vineyards and the largest number of wineries in the country. This makes it one of the most important production centres in the world.
Amidst fertile oases and dry mountain ranges lies the cultivated area of the Famatina Valleys, in the west of the region, between the Sierras de Velasco and Famatina.
The valleys are characterised by a warm climate, mild nights and great aridity. The interaction of altitude, latitude and high solar radiation determines different temperatures and humidity conditions in a semi-arid environment.
Winters are hard and summers are cool, especially at night, which allows winegrowers to obtain harmonious combinations of acidity and sweetness and abundant flavors, thanks to the slow and persistent ripening of the grapes.
All these characteristics give the Patagonian wines refined flavours, a superior aromatic intensity that reflects the purity of the environment and increases the prestige of the southernmost wine region in the world.
The most common white grapes grown in Patagonia are Chardonnay, Sauvignon Blanc, Torrontes Riojano, Torrontes Mendocino and Semillón.
Wines from Argentina: Basic knowledge
What are the typical Argentine foods to pair with Argentine wines?
Argentina is known worldwide for its beef production, so generally a Malbec from Argentina pairs wonderfully with a good grilled steak, or with the typical "asado", which is the traditional barbecue of this country.
In any case, more and more people are choosing not to eat meat in this country. Considering the great influence of Spanish and Italian food in Argentina, it is also very common to accompany red wines with pasta. More concentrated tomato sauces (such as tuco) go very well with a good Cabernet Sauvignon from Salta.
In Patagonia, it is traditional to pair fish and seafood dishes with delicious Patagonian Pinot Noir, as well as with Chardonnay. In that region and in Mendoza, there are delicious Chardonnay wines that have been aged for some time in oak barrels, so they are wines with more body and structure.
Of course, in Argentina they eat delicious empanadas, which can be made of meat, chicken, fish or vegetables. In the summer, a typical fried empanada can pair very well with a Torrontés wine from Salta, served very cold.
What is the altitude of the vineyards in Argentina?
The altitude of the vineyards in Argentina, in the Northwest region (Salta, Catamarca and Jujuy), ranges from 750 to 3300 meters above sea level.
Vineyards in the Patagonian and Pampas regions can reach almost 700 meters above sea level.
The average altitude of the vineyards of Mendoza, San Juan and La Rioja (Cuyo region) range from 800 to 2000 meters above sea level.
How many Appellations of Origin (DOC) does Argentina have?
Argentina has two DOC ( Controlled Denomination of Origin), and both are in Mendoza. One is Luján de Cuyo and the other is San Rafael. However, Argentina has almost 100 GIs (Geographical Indications) distributed in all the provinces that produce wine, and in its main regions.
What is the development of Argentine wine production?
With 215 thousand hectares of vineyards planted, Argentina produces wine in 14 of the 23 provinces and is the 5th largest wine producer in the world.
Of the total exported in dollars in 2020, 23% corresponds to Malbec. A red developed in Argentina as an export product that later became a favorite of local consumers, too.
Of the total cultivated area, 59% are red vines, 18% are white vines and 23% are rosé vines.
Of the total wine produced in Argentina in 2020, 72% of the wine is produced in Mendoza.
Argentina has more than 950 wineries in activity.
Which is the most recognized Argentine red wine?
The most recognized Argentine red wine worldwide is Malbec wine. You can also find Bonarda, Cabernet Sauvignon, Cabernet Franc, Pinot Noir, Syrah, Merlot and Tempranillo.
What is the most recognized Argentine white wine?
The most recognized Argentine white wine is Torrontés wine. This is a unique grape variety, which emerged during the Jesuit period in the 16th century, a blend of the Muscat of Alexandria grape and a local Creole grape variety. The Torrontés wine variety with which the highest quality wines are made is Torrontés Riojano. There is also Argentine red wine Chardonnay, Sauvignon Blanc, Chenin, Semillon and Viognier.
Where to buy wine from Argentina online?
We suggest you to buy in our online shop Andenweine. Some of the advantages of buying wine in Andenweine are:
- great variety of red wines, white wines and sparkling wines.
- You will find wines from the main wineries in Argentina.
- secure payment methods
- fast shipping of wines all over Europe
- excellent wine advice
- selection of organic and ecological wines
- personalized customer service
Buying in Andenweine you will be able to choose among the main wine regions of Argentina, such as:
• wines from Mendoza
• Wines from Salta
• Wines from Patagonia
• Wines from Uco Valley
• Wines from Cafayate