Chilean Cabernet Sauvignon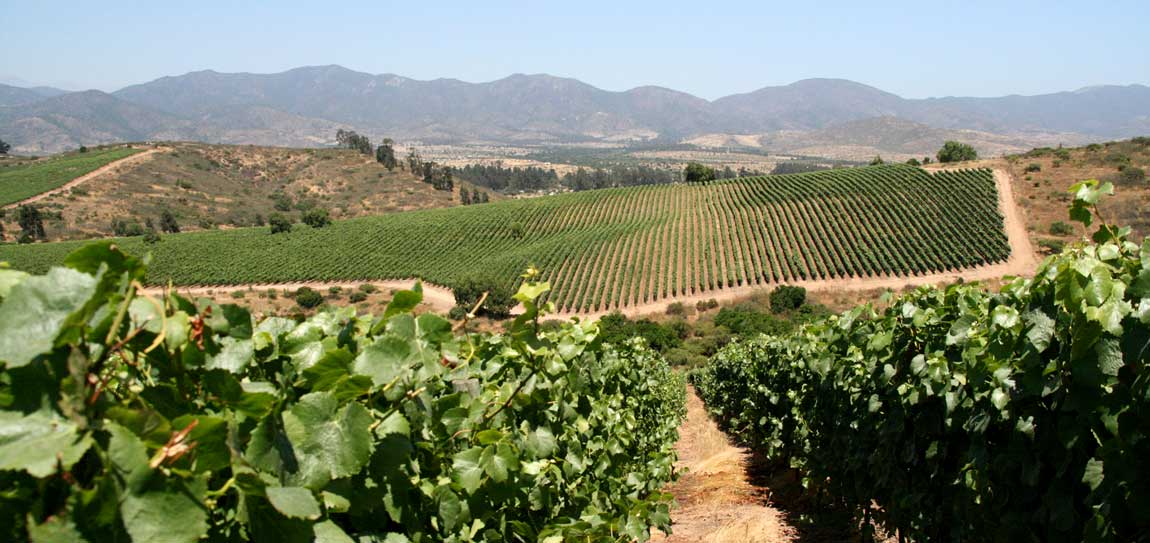 Buy Chilean Cabernet Sauvignon online
Cabernet Sauvignon has made Chile its second home, after its arrival from France in the mid-19th century. It is one of the best known red grapes in the world, as it grows in almost every major wine-growing area, in a diverse range of climates.
This late-ripening red grape flourishes in vineyards in the Aconcagua, Maipo, Cachapoal and Colchagua valleys, where the high sunshine, the breeze coming down from the Andes Mountains that provides cool nights and the absence of rain in summer have made it possible to achieve, through the vintages and years, a consistent Cabernet of the highest quality, with optimum ripeness that gives notes of red fruits, aromas of blackcurrant, figs and cocoa and even truffles.
Cabernet Sauvignon in Chile today represents almost 50% of the total cultivated area for red grapes.
Due to its aromatic qualities, its tannins and its high colouring, it is an excellent variety not only for single-varietal wines, but also for blends. Proof of this are the Chilean wines made from this grape, which have won awards worldwide.
Read more
Chile: sustainability and innovation
Chilean wine has its roots in the Colonial Era with the arrival of the conquistadors and Spanish missionaries who planted the first vines. It has since developed a great diversification of vines that has led to a strong global presence following decades of work.
During the middle of the 19th century, and thanks to the economic boom, a selection of the finest "scions" were brought to Chile from Europe, just a few decades before the parasite of the great phylloxera plague. This made possible for Carménère (an almost extinct variety) to be developed in secret, in this new world wine country, for over a century among the Merlot varieties.
Chile is a paradise for wine production thanks to its high temperatures in summer and cold and rainy winters. In addition, the Andes Cordillera provides irrigation through snowmelt and a natural barrier against pests and diseases.
This country features one of the finest terroirs in the world with vineyards from the limits of the Atacama Desert to south of the Biobío, displaying a wide diversity of soil types and climates for producing a broad array of wines.
Chile's vibrant viticulture has historically been concentrated in the Central Valley, a long strip of land closed in by the Andes to the east and the Coastal Mountains to the west, encapsulating this "Between Cordilleras" area. This region offers up a multitude of terroirs defined by a Mediterranean climate, great solar radiation, sedimentary soils, and cool nights, all of which promote a very healthy viticulture and the development of deep red wines with character.
Among the variety of the Valleys of Chile we can mention Aconcagua, Casablanca, Maipo, Colchagua, Elqui, Huasco, San Antonio, Cachapoal, Curico, Maule, Itata, Biobio, Limari, Cautin and Osorno.
Among the chilean grape varieties we can enjoy wines made of Cabernet Franc, Cabernet Sauvignon, Carignan, Carmenère, Cinsault, Merlot, Pinot Noir and Syrah.
Within the white grape varieties we can find excellent wines of Chardonnay, Riesling, Sauvignon Blanc, Semillon and Viognier.
(*) Source: winesofchile.org
Red Wines from Chile: Basic knowledge
How many wine valleys does Chile have?
Chile has 17 valleys, divided into 6 main wine growing regions.
Since 2011 a new zonal division has been developed. Chile has been divided into three new zones following the vertical axis of the country and from west to east: Coast, Between Cordilleras and Andes.
The Central Valley has the largest and most active wine region in the country (in charge of 83% of wine production). The vineyards of the Central Valley of Chile have an altitude of no more than 600 meters above sea level.
What are the typical Chilean foods to pair with Chilean wines?
A typical Chilean dish is cazuela, a soup prepared with beef, chicken or lamb, which is accompanied with vegetables such as potatoes, pumpkin and corn on the cob. This is a dish that can be very well accompanied by a Carmenere red wine, either a young wine or a wine aged in barrels.
Other typical dishes such as pastel de choclo or curanto, go very well with Chilean Cabernet Sauvignon or Syrah.
Of course, in Chile they eat delicious empanadas, which can be made of meat, chicken, fish or vegetables. In the summer, a typical fried empanada can pair very well with a Chilean Sauvignon Blanc wine, served chilled.
How is Chilean wine production developed?
Wine production in Chile is mainly concentrated in the O'Higgins, Maule and Metropolitan regions, accounting for 92% of the total.
Almost all of Chile's vineyards are planted with Chilean rootstocks, a particularity that not many regions in the world can have. The vine mite called phylloxera eliminated the largest percentage of vineyards in Europe in the mid-19th century. However, the climatic and soil characteristics in Chile have prevented the proliferation of this pest.
Today in Chile there are 800 active wineries, 11,697 producers and 394 wine exporting companies.
The main consumer countries of wines with denomination of origin from Chile are Brazil, China and the United Kingdom. Between January and November 2021, 317.1 million liters of bulk wine were exported for a total amount of USD 277.8 million.
Of the total vineyard area in Chile, 74% belongs to red varieties and 26% to white varieties.
What is the most recognized Chilean red wine?
The most recognized Chilean red wine worldwide is the Carménère wine. This grape originally comes from the French region of Médoc, but in Chile it has managed to find its special and distinctive terroir. However, this is not its most widely planted grape. While historically the most planted grape variety in Chile was País Criolla, currently the most planted grape variety in Chile is Cabernet Sauvignon, followed by Merlot, Carmenère and Syrah.
What is the most recognized Chilean white wine?
Undoubtedly, Chilean Sauvignon Blanc has found its home in South America. The special climate provided by Chile's proximity to the Pacific Ocean has undoubtedly been instrumental in achieving the distinctive flavor and aroma of Chilean Sauvignon Blanc. They are followed by the Chilean white wines Chardonnay, Semillon, Riesling and Viognier.
Where to buy Chilean wine online?
We suggest you to buy in our online shop Andenweine. Some of the advantages of buying wine in Andenweine are:

- great variety of red wines, white wines and sparkling wines.
- You will find wines from the main wineries in Chile.
- secure payment methods
- fast shipping of wines all over Europe
- excellent wine advice
- selection of organic and ecological wines
- personalized customer service
Buying in Andenweine you can choose from the main wine regions of Chile, such as:
• wines from the Central Valley
• Wines from the Maipo Valley
• Wines from the Colchagua Valley
• Casablanca Valley wines
• Wines of the Rapel Valley
• Curicó Valley Wines